RESOURCES
Articles | Websites | Children's Books
TRAINING AND BEHAVIOR ARTICLES
PLEASE NOTE: The information contained on this website is designed for educational purposes only. The services of a competent professional trainer (contact us) or applied behaviorist should be sought regarding its applicability with respect to your own individual dog. The training of dogs is not without risk. The author and publisher shall have neither liability nor responsibility to any person or entity with respect to any loss or damage caused or alleged to be caused directly or indirectly by the information contained on this website.

These articles are especially geared towards pit bull owners with limited time and space. Small steps and some common sense can make a huge difference in you and your dog's life.
TRAINING YOUR PIT BULL

DAILY EXERCISE AND MENTAL ENRICHMENT

MANAGEMENT AND CRATE TRAINING

FOOD AND WATER
WEBSITES
Should your website be on this page? Let us know!
Animal Farm Foundation - Organization working to restore the image of Pit Bulls and protect them from discrimination and cruelty. Rescues and adopts out ambassadors of the breed!

Working Pitbull, The - Diane Jessup's Website

Law Dogs USA - Pit Bull Police Dogs

Out Of The Pits - A Non-Profit Animal Rescue Organization

KNOCK OUT DOG FIGHTING - Dedicated to Stopping Cruelty and Abuse

Kris Crawford's Safety Around Dogs

Defending Dog

Pit Bull Rescue Central - Where Education Meets Rescue

Hello Bully - Rehabilitating, Rehoming, Repairing the Reputation

BAD RAP - Bay Area Dog Lovers Responsible About Pit Bulls

Adopt A Pit Bull Near You! - A State by State Listing of Pit Bull Rescue Groups

Our Pack, Inc - Pit Bull Advocates for Compassion & Kindness

Pacific Northwest Pit Bull Rescue

Pet Pit Bull - An Informative Site For Pet Pit Bull Lovers

The Truth About Pit Bulls

BullsEye Dog Rescue - Helping Bull Breed Dogs by Providing Education, Advocacy, and Rescue

Missouri Pit Bull Rescue

Where Angels Run - This organization is working to reduce the useless killing of physically and temperamentally sound companion animals due to the lack of responsible homes and to improve the quality of life for owned dogs in the South.

For Pits' Sake - Dispelling Common Myths

Pit Bull Press, The - Publicists for the World's Pit Bulls

Pit Bull Project - Seattle-based Rescue and Education Network

Recycle-A-Bull - Rescuing/Placement of Purebred Pit Bulls of exceptional character, education and mentoring for adopters, ongoing outreach programs to showcase the truth about these dogs!

Pit Bulls In Truth - Blog

STOP BSL (Breed Specific Legislation)

Vick Dog Blog - Tails, Stories and More From The Dogs That Survived Vick and The System
DEMO - The Story of a Junkyard Dog

EXCELLENT BOOK FOR KIDS!


by Jon Bozak and Scott Bruns
This book is brilliantly written, beautifully illustrated and has an important positive environmental and social message. It is an action-packed novel for readers young and old that follows a misunderstood junkyard dog and his difficult journey to find acceptance in an unfriendly world. A modern tale about the most classic of heroes – the underdog! This book is an excellent way to teach tolerance, understanding, and compassion for animals to children.
Click Here to Purchase Your Copy of DEMO - The Story of a Junkyard Dog!
Max, The Shelter Dog - Written and Illustrated by Nicole Rivera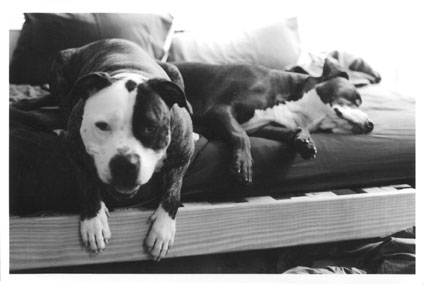 Check back again soon!